A new column from Awesome Black delving into the Blak Loud playlist with Amazon Music.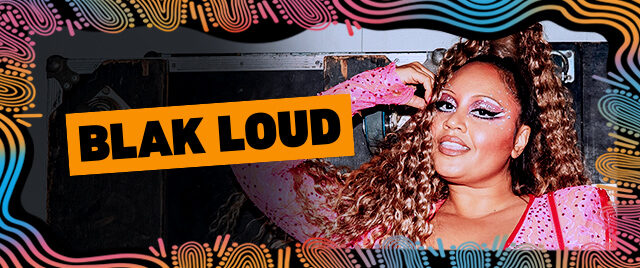 Welcome to the first article in an ongoing series for Awesome Black talking about new music from mob. We've been collaborating with Amazon Music Australia to curate a new playlist that's full to the brim of fifty new songs from First Nations musicians. Updated every month, the playlist is called Blak Loud and the whole Awesome Black team will be contributing!

The first track on the new playlist is by our absolute diva artist, the one and only Jess Mauboy. Her new track Right Here Right Now is an absolute jam. 
Having this playlist is personally really exciting. Here's why: 
When I was a kid I was always listening to music, across all genres, but I always struggled to find music by mob that I was really into. I craved new pieces that I could share, whether it was an MP3 or burning a CD of tracks to show my friends on a drive, I've always really been into listening to new music made by Blakfullas (and just about anyone) and I've always wanted to be a part of bringing that to a wider audience. 
When I was trying to figure out what I wanted to do with my life when I finished school (no one actually wants to be at work let's be honest) my top three career choices were; sci-fi/fantasy writer/artist, podcaster (weirdly prescient for a 16 year old, rural QLD boy in 2007) and 'going out to different places, finding new musicians and putting them on mixtapes or like a music journalist'.
I know the last job doesn't really exist so I threw music journalist in there as a fallback. 
I have already achieved two of my teenage self's three career goals and have partly achieved the third (I worked on and off in the live music industry since being on site crew for Big Day Out 2009). I never did get to be a music journalist and that has always grated on me. To be curating a playlist with Amazon Music Australia is the culmination of decades of daydreaming, mixtaping and Blakfulla music appreciation.

For Awesome Black, it's incredibly cool that we get to be a part of sharing incredible First Nations music to listeners, while partnering with a platform like Amazon Music Australia
This column for the Awesome Black blog will pair with the playlist, bringing insight from each of the team members who have contributed to the playlist. Each person will talk about why they love a track or a musician and what the music means to them. Kind of like mini reviews of the music and artists we've been curating on the playlist. The following tracks are all available in the Blak Loud playlist on Amazon Music. 
Ben 'Barme' Armstrong on Bumpy's Morning Sun EP
Bumpy's whole EP delivers a collection of soulful and funky tracks that are a joy to listen to.  These two tracks: Return Home and Hide & Seek are my (our) favourites but really, the whole EP should be celebrated for its wonder!
Bumpy has wowed crowds at BIGSOUND, NIMAS, VIVID Festival, Queenscliff Music Festival, Melbourne Fashion Festival and more with her deeply affecting music; a complex but free-flowing, multi-faceted and emotional blend of alt-RnB and neo-soul, Bumpy presents a hypnotic, captivating exchange. 
Brooke Scobie on GLVES
I chose Free by Kaurareg, Fijian and Polynesian artist GLVES because it's a battle cry for domestic violence survivors, and as a survivor myself it really hit a nerve. This song is such a mesmerising and ethereal take on what GLVES calls Blak Folktronica, listening to it I can feel the call to the sea with the sweeping vastness and hypnotic loops. Free really invited me back into the pain and the strength it takes to fight for truth and justice with the shapeshifting cinematic electropop, and profound lyrics. 
Born on Lutruwita, now living in Meanjin GLVES speaks to the culture, trauma, power and passion of First Nations women across this continent with her critically acclaimed music. Free was awarded Best Music Video in the 2022 Sydney International Women's Film Festival. 
Me (Travis De Vries) on the title track off Ziggy Ramo's Sugar Coated Lies
Ziggy Ramo continues to go from strength to strength as he and his work evolves. The beat and rhymes on this are superb. Sugar Coated Lies sits in the back of your head, with Alice Skye guesting on the chorus. The A Capella section along with Ziggy's cadence and lyrical driving intonation is fire. 
This is a track that reminds me of the hip hop I used to listen to; Jurassic 5, Blackalicious & The Roots and I'm so incredibly glad I get to listen to this work. 
The final repetition of the hook by Alice & Ziggy continues resonating after the music stops. The whole album is definitely worth the listen. 
That's it for the first instalment of this column. We'll also be building out the Awesome Black music offering over the coming while, bringing you interviews with musicians and longer form articles. Be sure to sign up to our newsletter so you never miss a beat.
The first curation of Blak Loud, with fifty brand new tracks from deadly First Nations artists, is now live on Amazon Music. You can listen online or through the app.
Let us know what music is resonating with you and if you have suggestions for new music that you want to send us please drop us a line via email music@awesomeblack.org