The Blak Loud playlist curated by Awesome Black for Amazon Music delves into the August update featuring the 2023 NIMA nominees.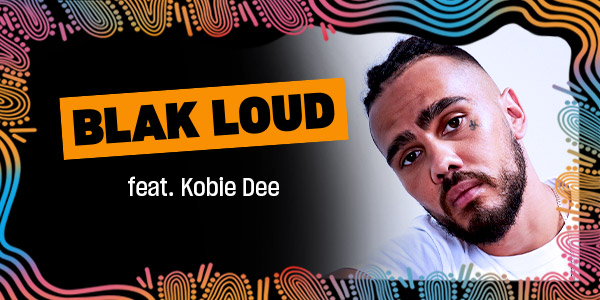 Yo, yo, yo! Welcome to Blak List Vol. 6, our ongoing series delving into Blak Loud, the monthly playlist Awesome Black curates with Amazon Music Australia. Blak Loud is updated and full to the brim with fifty tracks from First Nations musicians.
This month is amazing for Blak music and here is why… a couple of weeks ago the NIMA nominees were announced. To celebrate the NIMAs and the artists this month's playlist features tracks from the nominated artists, albums and songs. This means that there are less new tracks in this update (don't worry new tracks will be back soon) but it does mean we get to talk about some of the incredible nominations and the amazing event that is the NIMAs. 
For those who don't already know… The NIMAs are the National Indigenous Music Awards. They've been running for 16 years now and are a showcase of the incredible First Nations music talent coming out of this continent. It's a huge honour to be nominated and to be a finalist and be celebrated in an awards ceremony that is for First Nations people by First Nations peoples. 
The NIMA's is also a live awards ceremony held in Darwin at the historic Amphitheatre, I have never been lucky enough to get along to the awards in person and I am super excited to be able to go this year. You'll hear more about that next week over on the Awesome Black Instagram where I'll be doing a NIMA's takeover.
It was recently announced that Amazon Music have signed an extended 2-year deal to sponsor the awards which is huge! Amazon Music are working with MusicNT to help the awards continue their evolution toward supporting First Nations musicians as well as nurturing and expanding its First Nations led production and creative team. 
For me this is so cool, as it means the awards are here to stay. I remember the first year I heard about the NIMAs… It was around 2013 (a few years into the event) and I thought it was a very NT centric event, seeing it grow and become a huge annual gathering for blakfullas in the industry is amazing. Celebrating the success of blak music, providing deeper critique and interesting lore for blak music is what this series is all about.
I for one cannot wait to see the event, I am quite literally listening to the Blak Loud playlist for this month before it goes live to all of you and getting pumped up.  
Tickets to the Darwin Amphitheatre ceremony on August 12 are available 
Full Nominations List 
2023 NATIONAL INDIGENOUS MUSIC AWARDS NOMINATIONS
Artist of the Year
Budjerah
Jessica Mauboy
Mo'Ju
Kobie Dee
The Kid Laroi
New Talent of the Year
Bumpy
Royston Noell
Wildfire Manwurrk
Marlon & Rulla
Tjaka
Film Clip of the Year
Wildfire Manwurrk – 'Lonely Bangardi'
Budjerah – 'Therapy'
A.B. Original – 'King Billy Cokebottle'
Thelma Plum – 'The Brown Snake'
King Stingray – 'Let's Go'
Song of the Year
Bumpy – 'Hide and Seek'
Budjerah – 'Therapy'
Miiesha – 'Skin Deep'
King Stingray – 'Let's Go'
Yirrmal ft. Dami Im – 'Promised Land'
Album of the Year
Thelma Plum – Meanjin (EP)
Ngulmiya – Self-titled
Mo'Ju – Oro Plata Mata
Miiesha – Smoke & Mirrors
Beddy Rays – Self-titled
Community Clip of the Year
Wildfire Manwurrk – 'Mararradj'
Utju Community – 'Tjamuku Tjukurpa Kanyila'
Lil Yougins – 'The Problem'
Indigenous Outreach Project w/ Gunyangara, Yirrkala & Dhalinbuy, NT ft. Yirrmal – 'Indigenous Outreach Projects, Gunyangara, Yirrkala & Dhalinbuy ft. Yirrmal'
Garrthalala Community – 'Garrthalala Manikay'
Dunghutti Community in Kempsey NSW – 'The Black Truth – There's Still Hope'
You can also listen to the NIMA Playlist – put together by their team here.
Thanks for stopping by for the Vol 6 of this column. We'll see you very soon!  The NIMAs Blak Loud playlist, with fifty new tracks from deadly First Nations artists, is live on Amazon Music You can listen online or through the app.

Let us know what music is resonating with you and if you have suggestions for new music that you want to send us please drop us a line via email music@awesomeblack.org